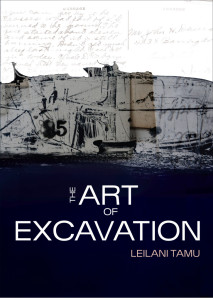 In The Art of Excavation, poet Leilani Tamu delves into the complex and multifaceted nature of the region that we know as the Pacific. In poetry that is by turns fierce and political, tender and insightful, contemplative and intimate, Leilani creates a beautiful 'ie tōga (finely woven mat) that weaves together living memory in a way that also acknowledges and places the past at the centre of the narrative.
Leilani Tamu is a poet, social commentator, Pacific historian and former New Zealand diplomat.
ISBN 978-0-473-29004-7, 160mm x 225mm, pb, b&w, 88pp
Distributed by Greene Phoenix Marketing
Release date: 12 August 2014
The physical book is now available through all good New Zealand booksellers, and is also available via Amazon as an ebook.
"A remarkable and energising literary arrival" —Greg O'Brien, Radio NZ National.
"This is an impressive debut that lays poetic roots in the present in order to nourish the past" —Paula Green, NZ Poetry Shelf.
"Tamu's work combines politics with spirituality, taking aim at Pacific aid and the relations between wealthy donor nations and those they help." —Michael Field, Sunday Star Times.