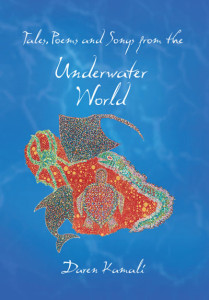 This bilingual poetry collection (English and Fijian) fuses sea creatures, myths and themes from around the Pacific.
Daren Kamali is a Pacific performance poet, musician, writer and co-founder of the South Auckland Poets Collective. He is of Fijian, Wallis and Futuna ancestry, now living in New Zealand. Daren was awarded the Fulbright-Creative New Zealand Pacific Writer's Residency in 2012. Tales, Poems and Songs is his first collection.
ISBN 978-0-47318-780-4, 1600 x 2250mm, pb, colour illus, audio cd, 92pp.
Release date: October 2011
"Kamali's poetry is a genuine if naïve attempt to connect the ancient Pacific Islander cultures to the twenty-first century peoples who have migrated, mainly to New Zealand and Australia. It is therefore a truthful attempt to reconnect displaced people to their original roots while reaffirming their presence in other lands and settings, and as such, it deserves attention." —Jorge Salavert, Transnational Literature.
"Whether spoken or sung, Kamali's voice flies like a frigate bird over warm Pacific seas – exploring his people's psyche and leading them onwards." —Dr Selina Tusitala Marsh
"This is poetry much bigger than words on pages:  Daren Kamali fuses centuries old Pacific traditions of oral poetry and music with contemporary slam and rap." —Tusiata Avia
*We regret this title has now SOLD OUT.