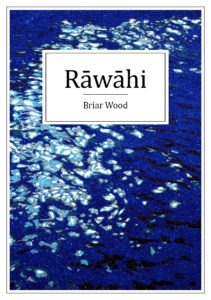 In Rāwāhi (meaning 'overseas'), poet Briar Wood weaves lyrical seascapes revealing people and places inspired by her home in New Zealand, her travels and time living overseas. Rāwāhi journeys from Aoteaora New Zealand to London, Europe and back again.
Briar Wood (Ngāpuhi) grew up in South Auckland. She lived and worked as a lecturer in Britain until 2012, where she published poetry, fiction and essays. She is now based in Northland, NZ.
978-0-473-40338-6, 148mm x 210mm, pb, b&w, 70pp.
Release date: 16 October 2017
*Anahera charges $3.50 postage for books sent out within New Zealand, and $10 to all international destinations. If you are purchasing from overseas please make sure the correct shipping cost of $10 is entered in the shopping cart as the cart defaults to $3.50.
*Shortlisted for the Ockham NZ Book Awards 2018 Poetry Prize
"Ngapuhi poet Briar Wood's stunning first collection Rawahi utilizes its title, translation: overseas, to examine ecological and mythological concerns closer to home … the author's structures and cadences are perfectly crafted." –Siobhan Harvey, NZ Herald
"Briar Wood's poetry collection gathers, with a wide embrace, details of travel and living, and as the lived-in world grows on the page, the poems set up all manner of conversations. This book draws upon whakapapa, love, relations, ecology, the past and the present. Its warmth and its empathy are infectious." –Paula Green, NZ Poetry Shelf
"This is radiant, illuminating stuff … Anahera Press has found another strong voice." –Hamesh Wyatt, Otago Daily Times