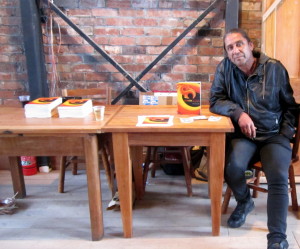 We are very happy to announce that Between the Kindling and the Blaze: reflections on the concept of mana by Ben Brown is now available. This title is a book containing poetry and short prose pieces with 10-track audio cd, RRP $27.99 (trade orders please email us). 
Where to buy this book:
– From this website – FREE shipping in NZ and to all international destinations – just click on the Books tab
– Fishpond: click here
– In stock at the following locations: Auckland – Unity (High St), The Women's Bookshop (Ponsonby Rd); Wellington – Unity (Willis St); Christchurch – Leslie's Bookshop (18 Oxford St, Lyttleton), UBS Canterbury (University Dr, Ilam)
– In store at any NZ bookshop – just ask at the counter by title/author/publisher and they will be able to order you a copy
Happy reading from Anahera Press!